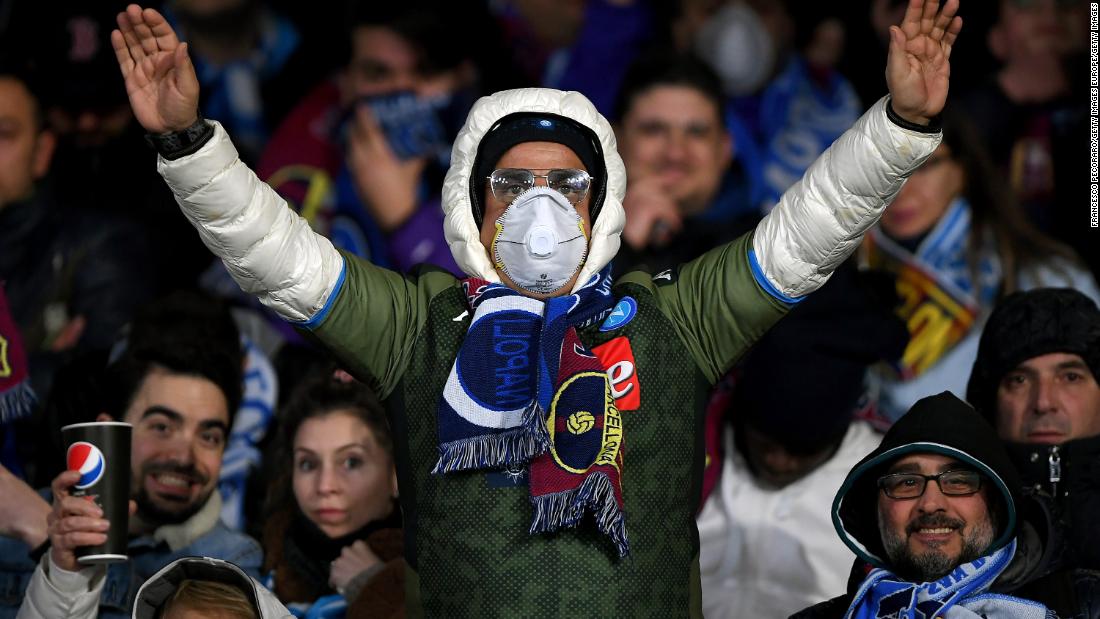 Sporting compeitions impacted by coronavirus
(CNN) As countries across the world scramble to get to grips with the coronavirus outbreak , sporting events across the board have been compromised.
There are now more than 80,000 confirmed cases of the virus around the world and the death toll is over 2,700 — the majority of which are from mainland China.With the World Health Organization saying it's time to prepare for a potential pandemic, it seems the list of sports affected by the virus will continue to grow.Rugby's Six Nations tie between Ireland and Italy in Dublin on March 7 is the latest event to be postponed as Italian authorities struggle to contain the biggest outbreak of the virus in Europe.There are also fears Tokyo 2020 may be impacted but organizers insist preparations are going ahead as planned.Read More Here is a list of the major sporting events so far hit by the coronavirus.
READ: Tokyo 2020 preparations going ahead 'as planned' despite coronavirus threat A Napoli supporter wears a mask during the Champions League tie against Barcelona.
Football The start of the Chinese Super League has been postponed.China's women's national football team was held in quarantine after Olympic qualifying matches were moved from China to Australia.
South Korea's professional soccer league has postponed the start of its new season.Four Serie A matches postponed in March due to a spike in cases in northern Italy.Inter Milan's Europa League game against Ludogorets will be played behind closed doors.Japan's J.League postponed seven Levian Cup matches in February and all domestic games through early March.Athletics The 2020 World Athletics Indoor Championships in Nanjing has been postponed until next year.The Tokyo Marathon in March has been restricted to elite athletes only.
Basketball Multiple Asia Cup qualifying matches have been postponed, including Philippines vs.Thailand and Japan vs.China Golf The European Tour canceled April's Maybank Championship in Malaysia and the following week's China Open.The LPGA canceled the elite Blue Bay tournament due to be held in Hainan.
It also canceled the 2020 Honda LPGA Thailand and the 2020 HSBC Women's World Championship in Singapore.READ: Italian soccer faces further disruption amid spike in coronavirus cases A promotional banner for the HSBC Women's World Championship which was cancelled due to coronavirus concerns.
Badminton China Masters tournament in Hainan has been postponed.The Vietnam International Challenge has been pushed back from Mach to June and won't act as a Tokyo 2020 qualifier.Showjumping The Longines Masters of Hong Kong showjumping event has been canceled.Esports The 2020 League of Legends LPL Spring tournament has been postponed.
Boxing The Olympic boxing qualifiers for Asia and Oceania teams were moved from Wuhan to Jordan .Winter Sports The first Winter X-Games event to be held in China has been postponed.The downhill and super-G men's alpine skiing World Cup races were canceled in February.The World Short Track Speed Skating Championships in South Korea have been postponed.
Motorsports China's Formula E race on March 21 has been canceled.The Chinese Grand Prix — originally scheduled for April 19 — has been postponed.Hockey Hockey Pro League matches between China and Belgium in Changzhou have been canceled.READ: Tokyo Marathon restricted to elite athletes over coronavirus fears JUST WATCHED Wuhan coronavirus affecting sporting events Replay More Videos …
MUST WATCH
Wuhan coronavirus affecting sporting events 03:53 Rugby Hong Kong and Singapore Sevens tournaments have been moved from April to October.The Six Nations tie between Ireland and Italy has been postponed after advice from Government.Table tennis The world championship to be held in Busan, South Korea, has been pushed from March to June.Tennis China had to forfeit a Davis Cup tie against Romania because its team was unable to travel.
WTA canceled April's Xi'an Open tennis tournament and said it would monitor events with upcoming competitions scheduled in China.Baseball Fans will be banned for attending 72 Japanese pro-baseball pre-season games..