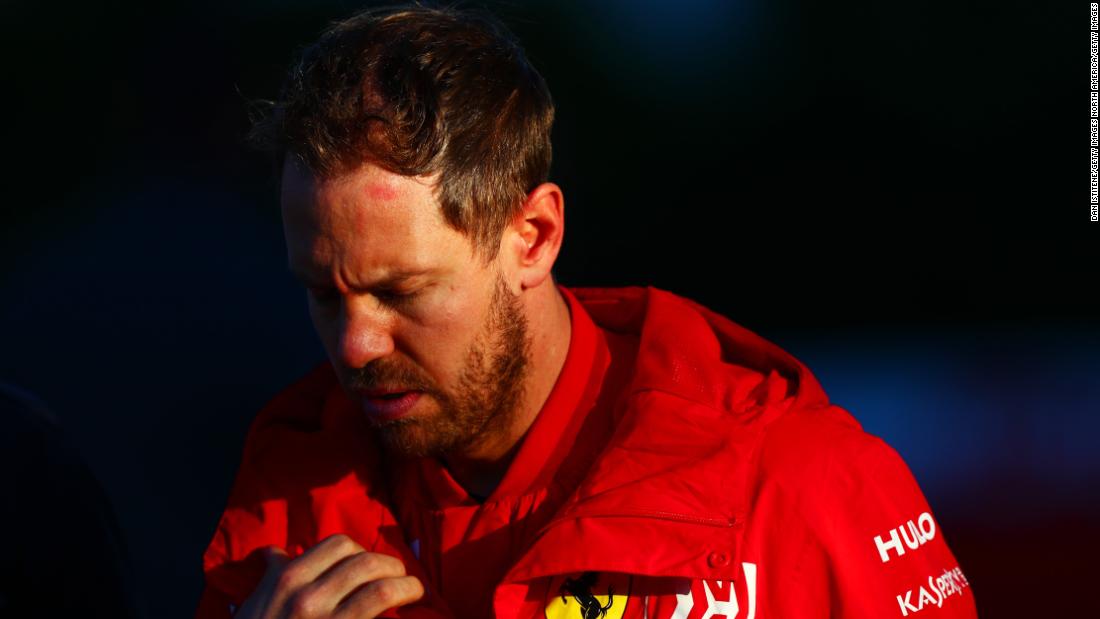 Sebastian Vettel will leave Ferrari at the end of the season
(CNN) Harmonious it wasn't.
After a particularly trying year plagued by mishaps and internal politics, four-time world champion Sebastian Vettel is set to leave Ferrari at the end of the current season, the team announced Tuesday .Ferrari team principal Mattia Binotto said the difficult decision had been mutual but "the time had come to go our separate ways in order to reach our respective objectives." Vettel, who joined Ferrari in 2015, said financial matters had nothing to do with it and hoped he would share more "beautiful moments" in his time left with the team."In order to get the best possible results in this sport, it's vital for all parties to work in perfect harmony," added Vettel , whose relationship with Ferrari had come under intense scrutiny after a series of incidents last year.Read More "The team and I have realized that there is no longer a common desire to stay together beyond the end of this season." READ: Ferrari star Leclerc as talented at racing esports as he is at the real thing Sebastian Vettel clashed with Ferrari teammate Charles Leclerc a number of times.
'Thank you for everything' Vettel signed for Ferrari hoping to emulate his hero Michael Schumacher's success but is yet to win a title for the Italian team — finishing second in the driver's championship in 2017 and 2018.His position as the team's number one driver has since been put under threat by the emergence of rising star Charles Leclerc, who is considered the long-term future of Ferrari.The pair locked horns a number of times last season , including at last year's Italian GP when the youngster failed to adhere to the agreed race plan.
The frustration continued to build at the Singapore GP, when a strange Ferrari strategy saw Vettel leapfrog Leclerc, much to the Monegasque's annoyance.Their relationship then reached boiling point in Brazil when the pair made unnecessary contact which ruled both drivers out of the race.However, despite the internal politics, Leclerc insisted his relationship with Vettel has always been amicable.
"It's been a huge honor for me to be your team mate [sic]," he wrote on Twitter ."We've had some tense moments on tracks.
Some very good ones and some others that didn't end as we both wanted, but there was always respect, even though it wasn't perceived this way from the outside."I've never learnt so much as I did with you as my teammate.Thank you for everything Seb." JUST WATCHED Will Buxton on Lewis Hamilton's legacy in F1 Replay More Videos …
MUST WATCH
Will Buxton on Lewis Hamilton's legacy in F1 02:22 Time to reflect The Formula One season is yet to get underway amid the coronavirus pandemic and it's unclear where the 32-year-old will go next in his career, with some suggesting it might force his hand into retirement."I can't say I'm surprised, but I am sad.The partnership promised so much, but all things must pass," F1 broadcaster Will Buxton wrote on Twitter ."Big questions remain now and the driver market suddenly gets very exciting." The German says he won't rush into any decisions and will take time during this enforced break to consider his options."What's been happening in these past few months has led many of us to reflect on what are our real priorities in life," Vettel added.
"One needs to use one's imagination and to adopt a new approach to a situation that has changed."I myself will take the time I need to reflect on what really matters when it comes to my future.".