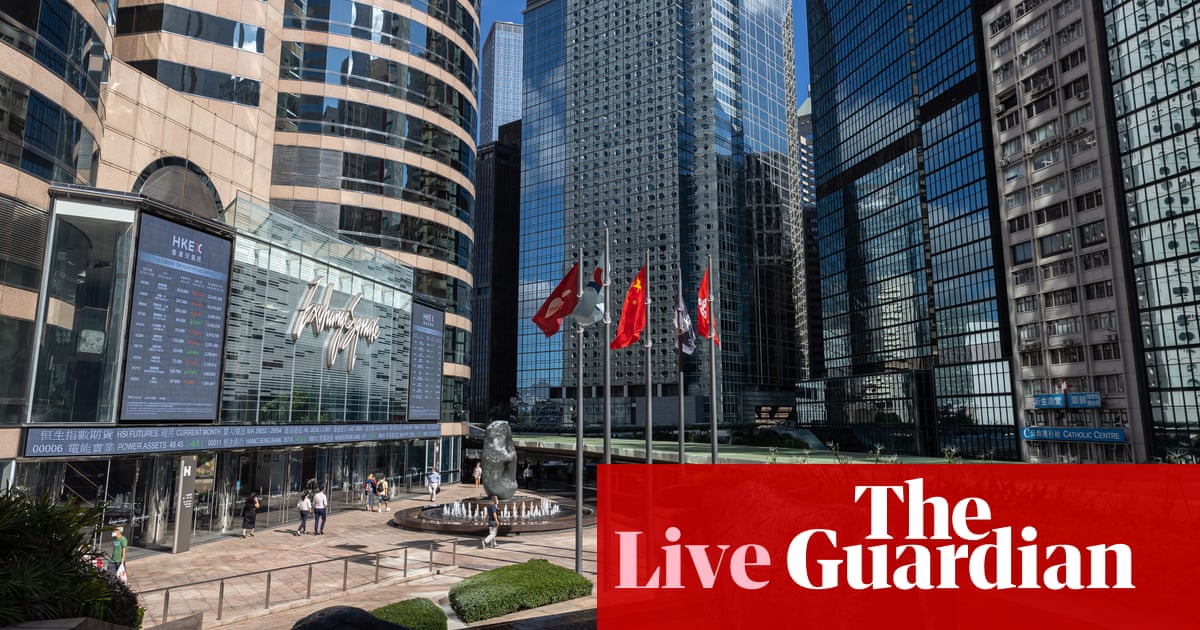 Markets hit by worries over growth and Covid-19 cases – business live
Some encouraging economic data: the eurozone's building sector returned to growth in May.
Construction output rose 0.9% month-on-month across the euro area, after a drop in April.
Building construction (such as new homes) increased by 1.2% while civil engineering slipped by 0.3%.
EU_Eurostat (@EU_Eurostat) Euro area #construction +0.9% in May over April 2021, +13.6% over May 2020 https://t.co/AyomgvnPAB pic.twitter.com/JzcZk89Yla
July 19, 2021 Facebook Twitter 10.07am BST 10:07
FTSE 100 falls further The selloff is gathering pace in London.
After two hour's jittery trading, the FTSE is down 130 points or almost 1.9% at 6877 points – still a two-month low.
Rolls-Royce are now the top faller, down 4.1%.Its aerospace business, which services planes as well as selling new engines, will suffer if travel demand remains subdued.
Mining giants are also in the top fallers, hit by concerns that slowing growth means less demand for commodities such as iron ore, copper, coal and nickel.
Glencore and Anglo American are both down around 3.6% this morning, with oil giant BP down 3.2% following the Opec+ deal to boost supplies.
Richard Hunter , head of markets at interactive investor , explains:
"Investors have moved risk averse for the moment, as a number of persistent concerns weigh on sentiment.
In the US for example, the stubborn presence of the Delta variant has led to some switching from growth stocks, such as big tech into defensives, such as healthcare and utilities, as various levels of lockdown continue in many parts of Asia, threatening to defer the global economic recovery.
Meanwhile, consumer confidence fell in July on inflation concerns, while this week will provide the first part of an acid test on the domestic corporate story.With expectations extremely high and with some predicting the strongest growth rate since the tail end of the great financial crisis in 2009, there is perhaps more scope for disappointment rather than positive surprise.
These economic concerns are hitting the UK market too:
The likes of the oil and mining sectors are under pressure within the premier index on fears of slowing growth.At the same time, stocks caught in the reopening trade such as the travel sector continue to be volatile even after the easing of some international restrictions, as time begins to run down on a potential 2021 return to widespread tourism.
Facebook Twitter 9.57am BST 09:57
Jasper Jolly
Photograph: Omar Marques/SOPA Images/REX/Shutterstock
Takeover news: The British video games developer Sumo Group has been snapped up by China's Tencent in a £919m deal.
The move further expands Tencent's presence in the global video games market.It's one of the biggest companies in the world thanks to its control of the Weixin/WeChat social media app, which is used across China for chat and mobile payments, as well as gaming.
It also controls large video game and esports interests, in a market that is expected to grow rapidly after a hiatus at the start of the pandemic.That includes ownership of Riot Games, the developer of the wildly popular League of Legends franchise , plus stakes in other games developers including Epic Games, the maker of the Fortnite series and Finland's Supercell, the maker of the mobile game Clash of Clans.
Sumo was set up in 2003 as a developer for hire, working on parts of other companies' games.
Eventually it took control of developing entire games, with past titles including a Sonic the Hedgehog game for Sega, LittleBigPlanet for Sony and Hitman in collaboration with IO Interactive….
China's Tencent buys UK video games developer Sumo for more than £900m Read 9.46am BST 09:46
Oil falls after Opec+ deal Oil has hit its lowest level in a month, after the Opec group and its allies reached an agreement to boost output.
The deal means oil production will continue to rise over the next few months, with output at the end of 2021 roughly two million barrels per day higher than today.
This will continue to unwind some of the production curbs introduced early in the pandemic, ending a dispute that had worried the markets (as oil supplies would remain too tight, or Opec's agreement might blow up).
Negotiations had floundered earlier this month, after the UAE pushed to be allowed to pump more within the rules.Now, higher output quotas have also been agreed for several members – the UAE, Saudi Arabia, Russia, Kuwait and Iraq .
The prospect of higher output, and worries about global growth, have pushed Brent crude down by over 2.5% to $71.59 per barrel, the lowest since mid-June.
SeaHedge (@SEAHedgeNet) Brent crude fall 2% at $72.10 per barrel and WTI crude drop 2% to trade at $70.35 per barrel.#OOTT pic.twitter.com/7DpqmkezJk
July 19, 2021 Updated at 9.47am 9.27am BST 09:27
Copper falls as virus worries unnerve investors
The copper smelter of Codelco Ventanas in Ventanas city, Chile.Photograph: Rodrigo Garrido/Reuters
Copper, a handy gauge of the economic outlook, has dropped this morning as surging Covid-19 cases threaten the economic recovery.
The jump in the US dollar, as nervous investors seek a safe haven, is also pushing down commodity prices.
Reuters has the details:
Three-month copper on the London Metal Exchange (LME) fell 0.6% to $9,367 a tonne by 0719 GMT, while the most-traded August copper contract on the Shanghai Futures Exchange ended 0.7% down at 68,740 yuan ($10,610.02) a tonne.
"Those who would seek to push metals higher stood aside today as Asian equities are all down," Malcolm Freeman, a director at UK brokerage Kingdom Futures, said in a note.
"The world of equities is still being unnerved by the Covid Delta spread and the fears that recovery will not be as quick and simple as might have been hoped for at first."
More here: Copper falls as virus worries unnerve investors Facebook Twitter 9.10am BST 09:10
Travel and leisure stocks are being hit by England's unexpected decision to make double-vaccinated travellers returning from France continue to quarantine.
The news, which emerged on Friday night, will disrupt the travel plans of thousands of British holidaymakers.
From today Britons who have had two Covid jabs heading back from amber list countries no longer need to isolate for 10 days, but this easing will not apply to France – which London blamed on cases of the Beta variant.
Quarantine to remain for vaccinated UK travellers returning from France Read more
Conservative MP Henry Smith , the chair of the all-party parliamentary group for the future of aviation, called it 'a real setback':
"We cannot afford to continue with this on-again, off-again approach to international travel, which is leaving consumer confidence in tatters, pushing businesses to the brink and will lead to further job losses."
The Stoxx 600 travel and leisure index (which tracks major airlines and hospitality firms listed across the UK and continental Europe) has dropped by 3.1%.
The top fallers on the Stoxx 600 travel and leisure index Photograph: Refinitiv Updated at 9.11am 8.51am BST 08:51
European stock markets are also in retreat this morning, matching the losses in London.
Germany's DAX is down 1.4%, while France's CAC has lost 1.5% and Italy's FTSE MIB has shed over 2%.
European stock markets in early trading.Photograph: Refinitiv
Neil Wilson of Markets.com says:
Risk is firmly off this morning with European stock markets slipping in early trade, led lower by the travel and energy sectors.US futures are weaker after Friday saw the first down week on Wall Street in four.
Bank earnings were strong, but markets have already discounted an exceptionally strong reporting season.
Meanwhile concerns about variants, rising cases and declining vaccine efficacy are all conspiring to knock confidence.
Facebook Twitter 8.47am BST 08:47
On the smaller FTSE 25 0 index, cruise operator Carnival has slumped by 7.8%, with cinema chain Cineworld down 5.4% and budget airline easyJet losing 6.3%.
Restaurant Group , which owns the Wagamama and Frankie & Benny's chains, are down nearly 5%, while transport group National Express have dropped by 4.5%
That's pulled the FTSE 250 down by 1.5% this morning, to a two-month low.
Facebook Twitter 8.28am BST 08:28
FTSE 100 hits two-month low There's no reopening bounce in the City either – with shares falling sharply at the start of trading.
The FTSE 100 index of blue-chip shares has tumbled by 90 points, or over 1.25%, to 6917 points – its lowest level since mid-May.
Almost every stock on the index is lower in early trading.
The FTSE 100 this morning.Photograph: Refinitiv
Hospitality and travel stocks are among the big fallers, hit by concerns over the pandemic.
IAG , which owns British Airways, is down 4.6%, along with jet engine manufacturer and servicer Rolls-Royce (-4.3%), Intercontinental Hotel s (-3.3%), commercial property developer British Land (-3.1%) and catering firm Compass (-3%).
The FTSE 100 this year Photograph: Refinitiv
Concerns over rapidly rising global Delta variant cases, as well as a slowing economic outlook, are hitting markets, says Michael Hewson of CMC Markets :
There was a great deal of optimism over the summer reopening, however as we look ahead to the rest of the year and look at how Delta variant infections are rising, some of that optimism is dissipating.
Updated at 9.12am 8.13am BST 08:13
Pound hits three-month low against the dollar The pound has fallen to a three-month low against the US dollar.
Sterling has dropped by half a cent to $1.372, its lowest since April, as concerns over the pandemic hit the currency – on the morning that restrictions are lifted in England.
The pound vs the US dollar over the last six month Photograph: Refinitiv
The pound has also dipped 0.2% against the euro to a one-week low of €1.1636.
Jeffrey Halley of OANDA says concerns over the wisdom of reopening while Covid-19 cases are surging could weigh on the pound:
The reopening is occurring as delta-variant cases explode in the UK, and I expect nerves over whether this is the dumbest post-pandemic policy decision ever to cap gains in Sterling this week.
From haircuts to clubs: how to stay Covid-safe after England's 'freedom day' Read more Updated at 8.29am 7.54am BST 07:54
Introduction: Covid-19 and inflation worries weigh on markets Good morning, and welcome to our rolling coverage of the world economy, the financial markets, the eurozone and business.
Rising concerns about the Covid-19 pandemic are weighing on the markets, on the day England lifts its remaining coronavirus restriction despite warnings that the move could allow new variants to emerge .
Stocks have dropped in Asia-Pacific markets, with Japan's Nikkei dropping 1.25% and Hong Kong's Hang Seng down 1.6% in late trading.The increase in Delta-variant cases is threatening to stymie the global recovery, as lockdown restrictions and curbs are reintroduced in in some Asia-Pacific countries.
Thailand , for example, reported its fourth consecutive day of rising infections today (11,784), as it country struggles to tackle its worst outbreak to date.
And in Australia , a lockdown has been extended in the state of Victoria as authorities try to control an outbreak of the "wildly infectious" Delta coronavirus variant.
Australia Covid live news update: NSW records fifth death from Sydney outbreak amid 98 new cases; Victoria extends lockdown after 13 new cases Read more
Concerns over rising inflation – and the possibility of central banks' tightening monetary policy too early – is also jangling investors' nerves, after the US CPI index hit a 13-year high last month, and UK inflation headed further over target.
As Reuters explains
Economists at Bank of America have downgraded their forecasts for U.S.economic growth to 6.5% this year, from 7% previously, but maintained their 5.5% forecast for next year.
"As for inflation, the bad news is it's likely to remain elevated near term," they said in a note, pointing to their latest read from their proprietary inflation meter which remains high.
"The good news is…we are likely near the peak, at least for the next few months, as base effects are less favourable and shortage pressures rotate away from goods towards services."
Reuters Tech News (@ReutersTech) Asian shares extend losses on renewed virus scare, inflation woes https://t.co/efzZezCNJu pic.twitter.com/N5bqVqmFcC
July 19, 2021 Kyle Rodda of IG says investors are growing concerned about economic fundamentals, after a strong recovery driven 'extraordinary' stimulus measures and optimism over vaccines:
There are clear signals that the markets feel a little unsettled about the global economic outlook.Of course, this isn't to suggest that a rapid or imminent crash is upon us.But that perhaps after 6-9 months of unbridled optimism, underpinned by extraordinary stimulus and the vaccine roll-out, perhaps the best part of the economic expansion has been seen already, and the tippy-top of the cycle is foreseeable and has been priced-in.
Maybe it's a misattribution, and perhaps it is due to what may prove to be temporary factors tied back to the spread of the Delta-variant.
Nevertheless, the price signals are there for a growth slow down, with market participants currently being forced to mull the question "what next?".
European markets are heading for a soft open too, with the FTSE 100 expected to fall:
IGSquawk (@IGSquawk) Broad risk-off move in European futures #FTSE 6944 -0.92% #DAX 15424 -1.31% #CAC 6412 -0.75% #AEX 730 -0.86% #MIB 24523 -1.09% #IBEX 8388 -1.63% #OMX 2321 -0.98% #STOXX 4001 -1.37%
July 19, 2021 The lifting of nearly all England's remaining legal restrictions today could help businesses recover from the turmoil of the last 16 months, although soaring infections mean many customers and firms remain fearful .
And the Confederation of British Industry which represents British businesses, has warned of crippling staff shortages caused by people being told to self-isolate by the NHS test-and-trace app.
This so-called 'pingdemic' threatens to close supermarkets and bring car production lines to a halt, they warn.
The CBI said double-jabbed people should be able to escape the 10-day quarantine now, while others could return to work after a test.
The CBI president, Karan Bilimoria, said:
"With restrictions being lifted and cases rapidly increasing, we urgently need a surefooted approach from government.
"Building and maintaining confidence is key to securing the economic recovery.Mask-wearing in enclosed spaces, especially transport, will help create confidence for both staff and customers, as will clarity around the future availability of free testing for employees."
CBI and Marks & Spencer join calls for government to tackle 'pingdemic' Read more The agenda 10am BST: Eurozone construction output for May 11am BST: German Bundesbank's monthly report 11am BST: Bank of England policymaker Jonathan Haskel speech on 'scaring in the economy', at the University of Liverpool School of Management 3pm BST: US NAHB housing market index Updated at 10.15am .