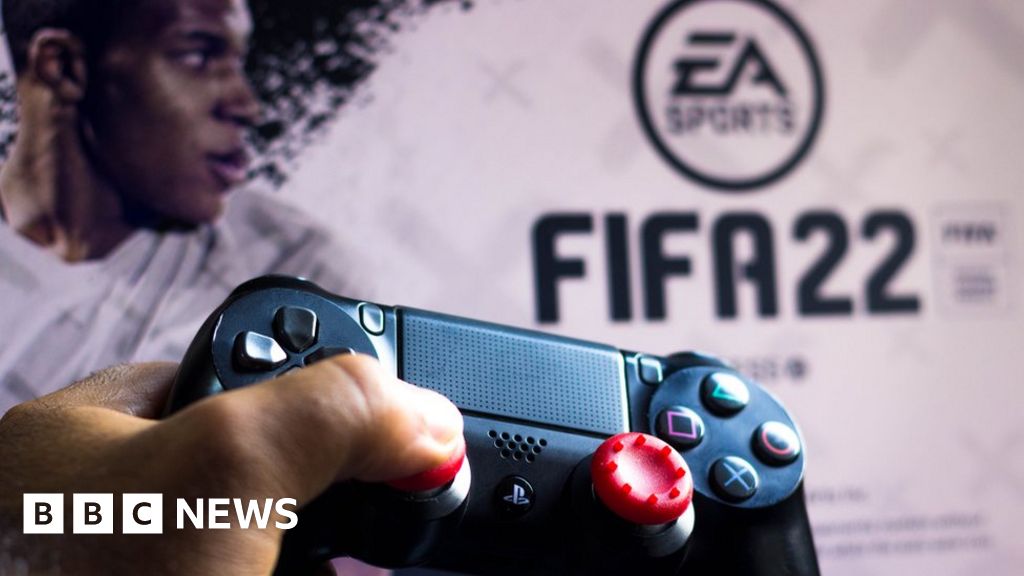 EA says NFTs are part of the future of games industry
EA says NFTs are part of the future of games industry Published
4 hours ago
Image source, Getty Images Game publisher Electronic Arts (EA) has told investors that collectible NFTs are "an important part of the future of our industry".
NFTs have erupted in popularity in recent months as a way to buy and sell digital-only art and collectible items.
EA makes the Fifa football series, which uses "card packs" to "collect" players in its Ultimate Team mode.
Chief executive Andrew Wilson told investors he believes Fifa players want to see NFTs in the franchise.
"[Players] want more modalities at play inside the game, which go beyond just straight 11-on-11 football," he told an earnings call.
"They want more digital experiences outside the game – esports, NFTs, broader sports consumption and they want us to move really, really quickly."
What are NFTs and why are some worth millions? NFT-based fantasy football cards raise $680m But he also said that NFT ideas were "still really, really early" and came with a "a lot of hype".
"It's still early to kind of figure out how that's going to work," he warned.
'Disruptive' and controversial Bringing NFTs into gaming is sometimes presented as an idea called "play to earn", based around the idea that unique digital items can increase in value over time – and be sold off later for profit.
PC Gamer reports that recent job listings at EA have included references to NFTs and the underlying technology they run on, the blockchain.
But the idea is controversial among gamers.
Major PC gaming platform Steam has banned blockchain and NFT-based games from its platform, while its rival Epic has not.
Some game designers believe the concept is bad for gaming overall, but other studios – including major player Ubisoft – are apparently embracing the idea.
'The kids emptied our bank account playing Fifa' Is this the end for the Fifa video game series? Games industry analyst Piers Harding-Rolls from Ampere said NFT and blockchain games "are new disruptive forces within the games sector".
He said all major publishers would be looking at the potential of these formats to make money – and "EA is no exception".
"It would be bad commercial practice not to be analysing how these technologies could impact its existing business," he said.
What are the fan tokens given to Messi by PSG? Twelve-year-old boy makes £290,000 from whale NFTs OpenSea admits insider trading of NFTs NFTs are already seeing use in the sports collectables market, he added: "I see a strong fit between [Fifa's card-based] Ultimate Team and the use of NFTs, but there are implications that need to be considered – not least the ongoing value and utility of NFTs, especially in the context of the season renewal which drives most activity within this mode of the game."
On the earnings call, Mr Wilson seemed to echo that seasonal sentiment – in which sports games such as FIFA are released annually and reflect the current sports calendar.
This video can not be played
To play this video you need to enable JavaScript in your browser.Media caption, How one teenager spent nearly £3,000 on his "addiction" to video game loot boxes."Collectability in games like Fifa and Madden and NHL, is really built on driving value through the traditional sports season," he said.
"Is there an opportunity, particularly as we think about NFTs and other digital ecosystems to expand that value over time? I think the short answer to that is 'yes'.
"I mean the slightly longer answer to that is we need to work and make sure we continue to appropriately tune and balance the experience for our players… but we will continue, as we have evolved the Ultimate Team experience over the last decade, we will continue to look for ways to add value for our players."
Related Topics Gaming eSports More on this story What are NFTs and why are some worth millions?
Published 23 September Twelve-year-old boy makes £290,000 from whale NFTs
Published 27 August OpenSea admits insider trading of NFTs
Published 16 September NFT-based fantasy football cards raise $680m
Published 21 September Buying a pink NFT cat was a nightmare
Published 30 May Banksy was warned about website flaw before hack
Published 3 September The 'insane' money in trading collectible cards
Published 19 March Is this the end for the Fifa video game series?
Published 15 October Loot boxes: I blew my parents' savings on Fifa
Published 9 July 2020.